Revo SuperConnect Stereo
23/10/2022
Lumin U2 Mini
06/11/2022
Yamaha R-N2000A
€3.795,00
Met zijn authentieke hifi-kwaliteit is de Yamaha R-N2000A een netwerk-hifi-Receiver van de volgende generatie. Compatibel met lossless muziekbronnen met hoge resolutie, inclusief streamingdiensten.
YPAO-R.S.C™. en precisie EQ voor ideale luisteromgeving
Ringkerntransformator voor ruimtelijk geluid vol realisme
ESS SABRE ES9026PRO Ultra DAC voor ultieme high-performance conversie
Mechanisch grondconcept maximaliseert stijfheid voor expressieve en ritmische bas
Gebalanceerde eindversterker en symmetrische constructie
MusicCast-netwerksysteem voor audioplezier in elke kamer en brede compatibiliteit met muziekstreamingservices
Krachtige USB DAC-functie ondersteunt DSD 11,2 MHz native afspelen en 384 kHz afspelen
HDMI ARC-aansluiting voor zorgeloos bediening en afhankelijk van de HDMI kabel, uitstekend tv-geluid
Prachtige niveaumeters brengen dynamiek en muziekpuls over met een nostalgische hifi-tijdperk look
Originele luidsprekeraansluitingen gesneden uit puur messing voor een zeer veilige verbinding
HiFi INVENTIEF
R-N2000A
Maak kennis met een moderne hifi-component, die moeiteloos de nieuwe generatie muziekbeleving weergeeft, zoals muziekstreaming met hoge resolutie, dit gecombineerd met bewezen HiFi-kwaliteit. Voortbouwend op Yamaha's ongeëvenaarde geschiedenis in muziek en veelgeprezen hifi-producten, zal de R-N2000A uw woonkamer transformeren in een ruimte met adembenemend mooi geluid.
De R-N2000A is met zijn VU-meters en prachtige ontwerp een toonbeeld van het gouden hifi-tijdperk en is voorzien van een indrukwekkend scala aan innovatieve technologieën voor nauwkeurige weergave van emotioneel en puur muzikaal geluid.
Een knipoog naar het verleden met de nieuwste technologie voor puur muziekgeluid.
This is sound that only Yamaha can realize as the only audio brand in the world that handles everything from the moment a sound is created to the time it reaches the human ear. Simply close your eyes and feel the artist performing right there in front of you, and experience the profound sensation of being truly 'Closer to the Artist.'
The position of the artist and the instrument, and even the delicate nuances and very atmosphere of the performance space is stunningly reproduced just as they are.
The resulting soundstage is so incredibly realistic, you'll feel as if you were watching the performance unfold right in front of you.
Yamaha Parametric Room Acoustic Optimizer (YPAO™)
Environmental factors play an important role in the sonic signature of a room, and with any type of audio. Yamaha's own YPAO™ automatic calibration technique, refined over decades of use in Home Theater products, has been optimized for the R-N2000A to deliver the ideal listening environment, as if you were in a professional audio listening room – without requiring any laborious manual setting adjustments. YPAO™ features precision EQ, which performs exceptionally high-precision equalization with accuracy of up to 192 kHz / 64-bit audio resolution. YPAO™ R.S.C. (Reflected Sound Control) works in tandem to actively control the important early reflection sounds, automatically adjusting and optimizing how the sound is heard in your room, depending on the materials of the walls and the speaker placement. Which means you can enjoy the profound sound and immersive feeling unique to Hi-Fi audio – right in your own living room.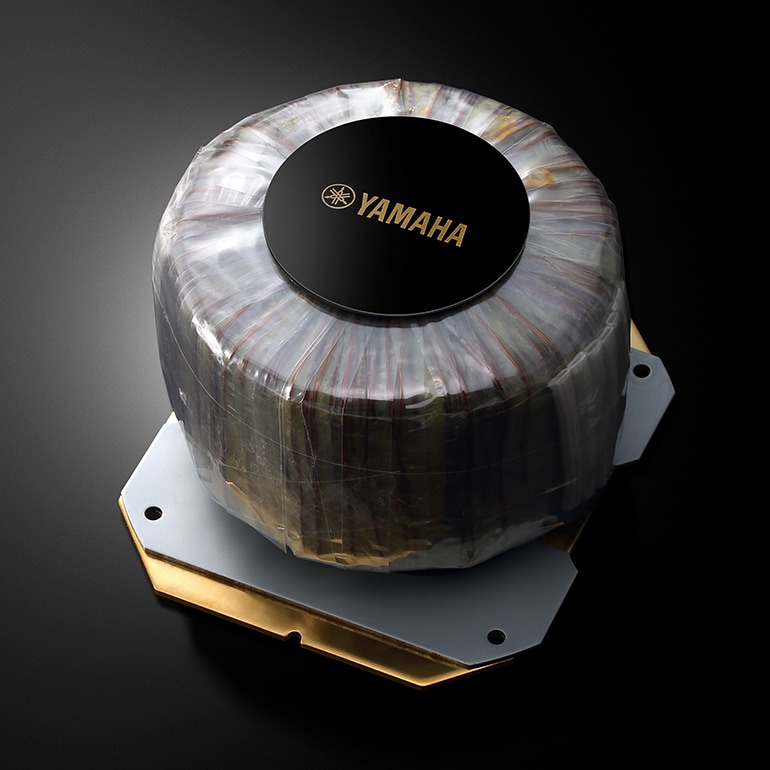 TOROIDAL TRANSFORMER
Meestal gereserveerd voor top Hi-Fi componenten, profiteert de R-N2000A van de technische voordelen en uitzonderlijke muzikaliteit van een ringkerntransformator. In combinatie met een reeks high-end Hi-Fi-functies en componenten, helpt de ringkerntransformator ervoor te zorgen dat de muzikale emotie wordt overgebracht op de luisteraar. Bovendien is een messing basis van 3 mm ingeklemd tussen de onderkant van de transformator en het binnenchassis om trillingen van de transformator te verminderen, wat een overweldigend ruimtelijk geluid vol realisme levert.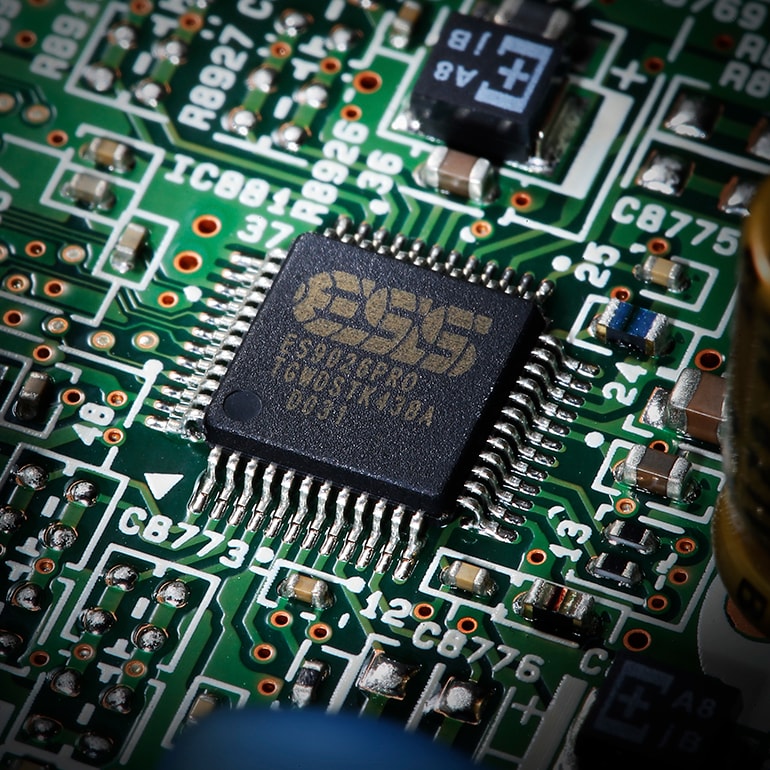 HIGH-PERFORMANCE DAC
In pursuit of clear, transparent sound field reproduction while delivering rich and fully detailed level of musicality, we have adopted the state of the art ES9026PRO digital-to-analog converter from ESS Technologies. This high-quality DAC achieves highly accurate signal conversion through the balanced analog audio output and further refined current delivery for four-channel operation, effectively reproducing even the subtle ambience of concert halls and delicate expressive nuances in the sound.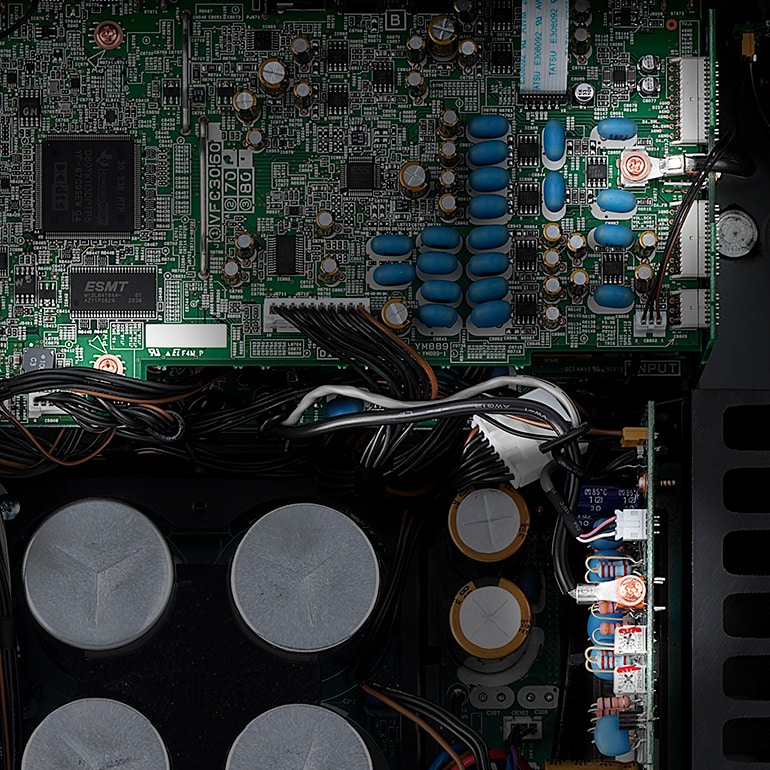 LOW IMPEDANCE CONCEPT
In order to thoroughly eliminate energy loss and degradation of the audio signal, the R-N2000A features thick wires for the ground connection a critical feature that establishes the componentry as being truly premium Hi-Fi. In addition, a screw connection is adopted for the output from the power amplifier section in order to strengthen the ground, which is important for audio quality. By achieving these, an open, natural sound stage is realized, bringing the artist and listener closer together.
As opposed to merely producing powerful sound, we pursue a sense of dynamics that express the contrast between stillness and motion in the music-allowing you to feel the intensely deep emotions in the music and immerse yourself in that musical world.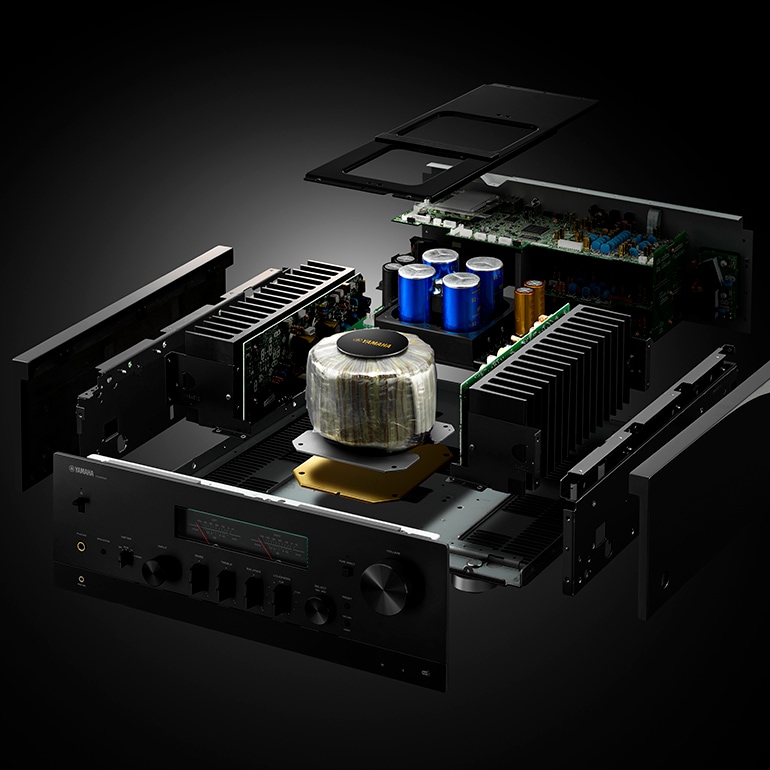 MECHANICAL GROUND CONCEPT
De R-N2000A verdient met recht het label 'premium hifi' dankzij het concept voor mechanische aarding dat is overgenomen van topmodellen in de versterkerserie. Het concept begint met de bouten van de voetjes, die direct op het hoofdchassis zijn gelast, gevolgd door het grote koellichaam, de stroomtransformator en de blokcondensatoren, die ook rechtstreeks op het chassis zijn bevestigd. Dit ontwerp voorkomt ongewenste trillingen, wat resulteert in expressieve en ritmische lage tonen die de 'groove' van de muziek overbrengen naar de luisteraar.
SILVER-PLATED BRASS FEET
Completing the solid rigidity of the amplifier are its heavy-duty silver-plated brass feet firmly reinforcing the rich, foundational low-frequency response and filling it with musicality.
This is the relentlessly faithful reproduction of all sounds, from all instruments and all vocals, at all pitches and across the entire spectrum.
Enjoy the full harmony and musicality in the sound even sounds you've never heard before.
FLOATING AND BALANCED POWER AMPLIFIER
Equipped with our original amplifier technology, the power amplifier circuitry including the power supply is completely independent from the ground, and the influence of minute voltage fluctuations and external ground noise is completely eliminated. A variety of benefits result from this circuit design, including perfect symmetry of pull-pull operation in the output stage, attainment of excellent S/N ratio, and an overwhelmingly expressive power that perfectly draws out the sound of any musical instrument.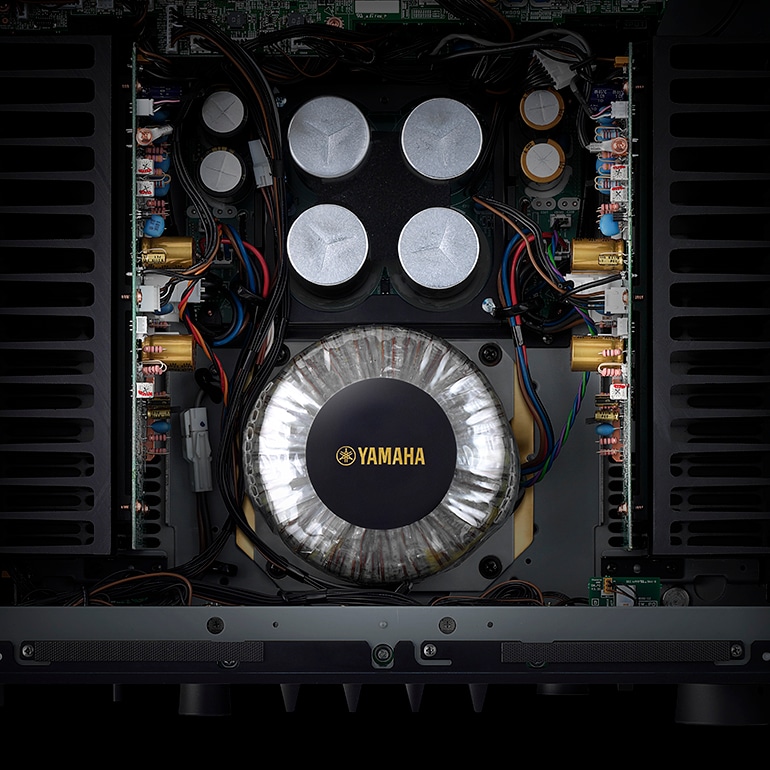 SYMMETRICAL CONSTRUCTION
Pursuing the epitome of stereo reproduction in this component, the R-N2000A has adopted perfectly symmetrical, folding-book construction, with the power supply in the center and the power amplifier blocks at both ends of the main unit. This gives the unit ideal weight balance and suppresses adverse effects between channels for extraordinary channel separation. The result is remarkably pure reproduction of every part of the sound – just as is.
The R-N2000A is equipped with Yamaha's original MusicCast network system. Moreover, it is compatible with a variety of streaming services such as Amazon Music HD and Spotify, letting you fully enjoy exceptionally high-quality sound unique to today's high-resolution and lossless sound sources, with complete fidelity. You can also use it to stream Apple Music with Airplay 2. And the MusicCast system lets you easily listen to music anywhere in your home by linking various MusicCast devices with just one app on your smart device.
* Music service availability varies by region and may change or be discontinued without notice.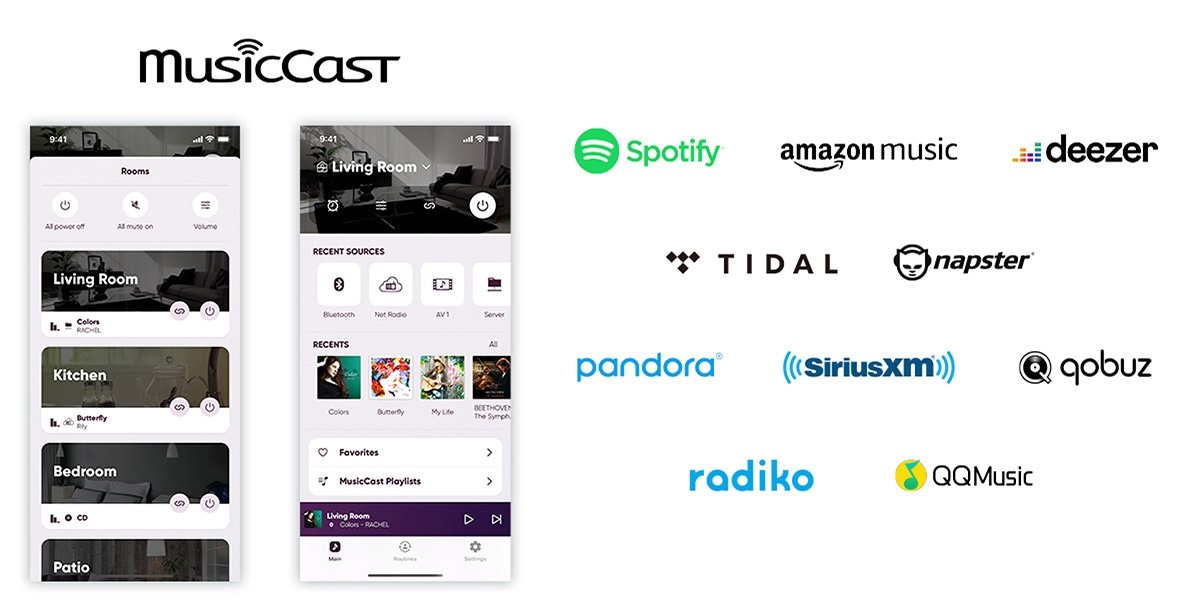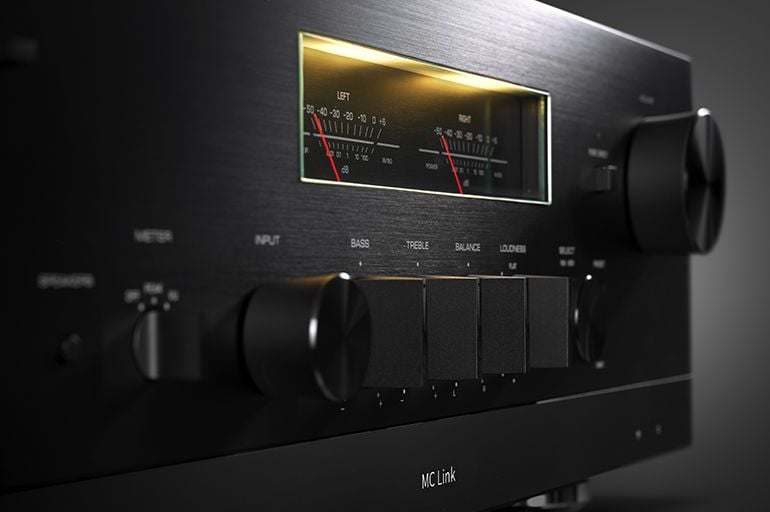 De niveaumeters zijn niet alleen een knipoog naar het nostalgische hifitijdperk, maar sluiten ook aan op het belang van puur hifigeluid voor de kritische liefhebber van nu. De niveaumeters geven visueel de dynamiek en puls van de muziek weer en stralen een warm gevoel uit door de zacht verlichte led's.
The elegant level meters are strongly evocative of the nostalgic era of Hi-Fi, and yet simultaneously signal the return of pure Hi-Fi for today's discerning enthusiast. Visually presenting the dynamics and pulse of the music, the level meters imbue a warm feeling through their softly illuminated LEDs. Bovendien is de onderkant van het voorpaneel voorzien van een briljant, high-definition organisch LED-display dat de content laat zien die wordt afgespeeld.
Get true Hi-Fi sound on your TV. The R-N2000A is compatible with HDMI ARC (Audio Return Channel), allowing you to connect to your TV with just a single cable meaning that you can enjoy not only audio but also TV audio content such as live performance broadcasts and music programs, with excellent sound quality.
A stable transmission method throught a stable transmission method through asynchronous transmission has been adopted. Moreover, an ultra-precision dedicated crystal clock has been installed to improve signal accuracy. It also supports DSD 11.2MHz native playback and 384kHz playback, letting you enjoy exceptionally high-quality sound that takes full advantage of high-resolution audio sources.
ORIGINAL SPEAKER TERMINALS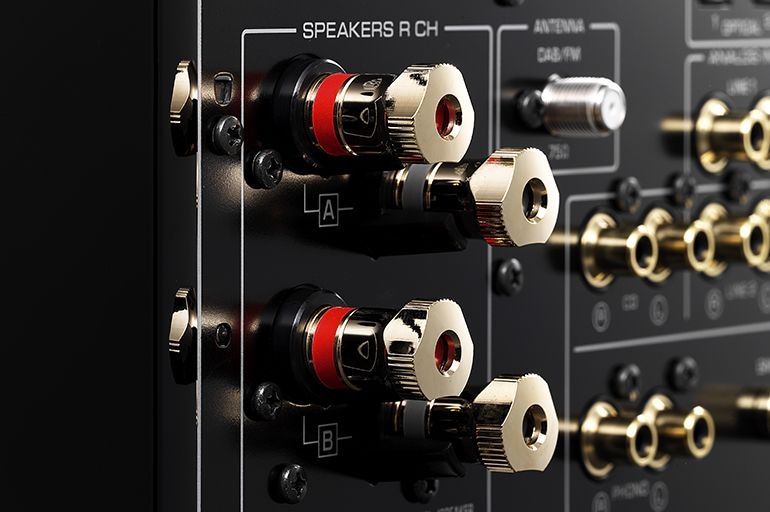 Cut directly from pure brass, the luxurious speaker terminals comfortably fit the human hand for effortless tightening, achieving a highly secure connection.
EMOTIE
Muziek komt voort uit emotie, een uniek persoonlijk verhaal dat de artiest wil delen. Begrijpen hoe muziek wordt gecreëerd en artiesten helpen bij het creëren van muziek vereist fundamenteel inzicht in muziek. Dit inzicht maakt deel uit van Yamaha's DNA, met name de emotie die het scheppen van muziek inspireert. Bij de ontwikkeling van ons uitgebreide assortiment hifiproducten is het overbrengen van deze emotie naar de luisteraar een van de belangrijkste aandachtspunten.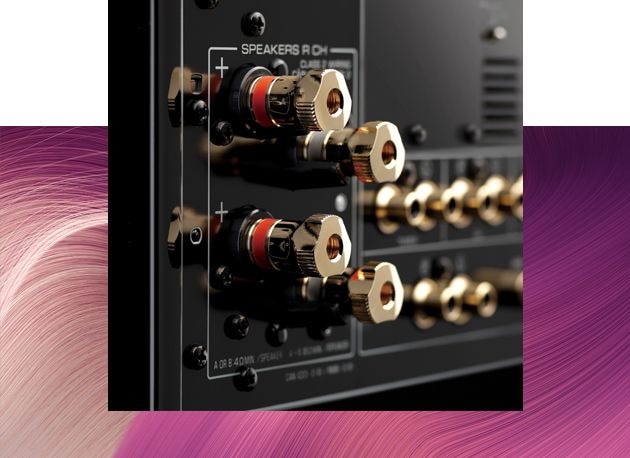 Specifications

R-N2000A
Specifications
Network section
File Format
MP3, WMA, MPEG-4 AAC, WAV, FLAC, AIFF, DSD
AirPlay
Yes
Maximum Power (4 ohms, 1kHz, 0.7% THD, for Europe)
190 W + 190 W
Maximum Power(8 ohms, 1 kHz, 10% THD)
120 W + 120 W
High Dynamic Power/Channel (8/6/4/2 ohms)
100 / 130 / 185 / 215 W
Frequency Response
5-100 kHz +0/-3 dB, 20-20 kH +0,-0.3 dB (Pure Direct ON)
Signal-to-Noise Ratio (CD)
110 dB (Pure Direct ON)
Audio In / Out
Phono, CD, line1, line2
Digital Input
Optical1, Optical2, Coaxial
USB Input
USB DAC (USB B-type)
Subwoofer Out
Yes
Control (Trigger) Out
Yes
FM 50dB Quieting Sensitivity (IHF, 1 kHz, 100% Mod., Mono)
3 µV (20.8 dBf)
FM Signal-to-Noise Ratio (Mono/Stereo)
69 dB / 67 dB
Pure Direct
Yes
ToP-ART
Yes
Standby Power Consumption
0.1 W (Network standby on/ Wi-Fi connection 1.8 W)
Dimensions (W x H x D)
435 x 157 x 473 ( with antenna up: 435 x 233 x 473)+ 17-1/8″ x 6-1/8″ x 18-5/8″ (with antenna up: 17-1/8″ x 9-1/8″ x 18-5/8″)
Weight
22.1 kg; 48.7 lbs
Receiver / Integrated Amplifier
Network section
Wi-Fi
Yes
Bluetooth
Yes (SBC / AAC)
Rated Output Power
[20-20 kHz 0.07 % THD] 90 W+90 W (8 ohms) 145 W + 145 W (4 ohms)
Phono Input
Yes
Ethernet
Yes
Headphone Out
Yes
Merk
Yamaha
| | |
| --- | --- |
| Kleur | Zilver/zwart, Zwart/zwart |