Yamaha R-N2000A
05/11/2022
Geneva Time
10/11/2022
Lumin U2 Mini
€2.499,00
YOUR DAC'S PERFECT PARTNER
De eerste LUMIN met een geheel nieuw processing systeem
GEHEEL-NIEUWE PROCESSOR
MEER FLEXIBILITY
DSD512 PCM768
DSD256 UPSAMPLING
5 SOORTEN UITGANGEN
USB UITGANG
WAAROM LUMIN U2 MINI?
In navolging van een van Lumin's populairste modellen introduceert LUMIN U2 Mini met een geheel nieuwe verwerkingssysteem, dat meer flexibiliteit en toekomstbestendigheid biedt.
Lumin U2 MINI is in staat tot upsampling en downsampling helemaal van 44,1 kHz tot 384 kHz/DSD256 en ondersteunt het afspelen van DSD512, en is de perfecte streamingpartner voor uw DAC.
Belangrijke features
Transport-only LUMIN in combinatie met een externe DAC
De eerste Lumin to feature Lumin's geheel-nieuwe processing systeem
Sneller processor realiseert grotere resampling flexibiliteit – upsampling en downsampling met elk ondersteunend formaat tot DSD256/PCM384 'to hit your DAC's sweetspot'
Afwerking behuizing dezelfde als de high-end P1
Quad native clock systeem voor precisie timing
5 types van digital audio uitgang inclusief USB
MQA Decoding
Roon Ready
Leedh Processing volume control
Builds on the massive success of U1 Mini
Completely new processing hardware and software deliver improved features and increased resampling flexibility while retaining all the musicality that was noted in so many outstanding U1 Mini reviews.
Key hardware features carried over from U1 Mini include the quad clocking system and 5 different digital outputs with USB now capable of up to DSD512!
The new model is also finished in a new silky surfacing process taken from our high-end P1 that is less susceptible to finger marks and easier to clean.
All the usual LUMIN refinements
From MQA to DSD, FLAC to WAV, LUMIN can play all the high-resolution formats you could ever want
Native support for TIDAL, Qobuz, Spotify and AirPlay, giving you access to tens of millions of songs
The unique and intuitive LUMIN App described as "fantastically intuitive and easy to use" by What Hi-Fi
LUMIN programme of continuous development that has seen Apple Silicon Mac support, TIDAL Connect, FLAC Lossless Radio and TIDAL Suggested/Related tracks added in 2021 alone.
Stream everything
From MQA to DSD, FLAC to WAV, LUMIN can play all the high-resolution formats you could ever want.
Have a thirst for new music? No problem – LUMIN comes with native support for TIDAL, Qobuz, Spotify and is AirPlay-compatible, giving you access to tens of millions of songs.
Take control
The LUMIN App is created in harmony with the LUMIN hardware to deliver the most intuitive and visually rich way to browse, select and play your music collection.
It represents our vision of how to make music browsing and playback easy, visual, and tactile.
Once one tries navigating music with LUMIN there's no turning back.
Always one step ahead
LUMIN is always evolving. The full LUMIN range benefits from our programme of continuous development, allowing you to relax in the knowledge that wherever possible we'll bring you the latest streaming technologies.
In 2017 every LUMIN model gained compatibility with Roon, MQA and Spotify Connect — all absolutely free of charge.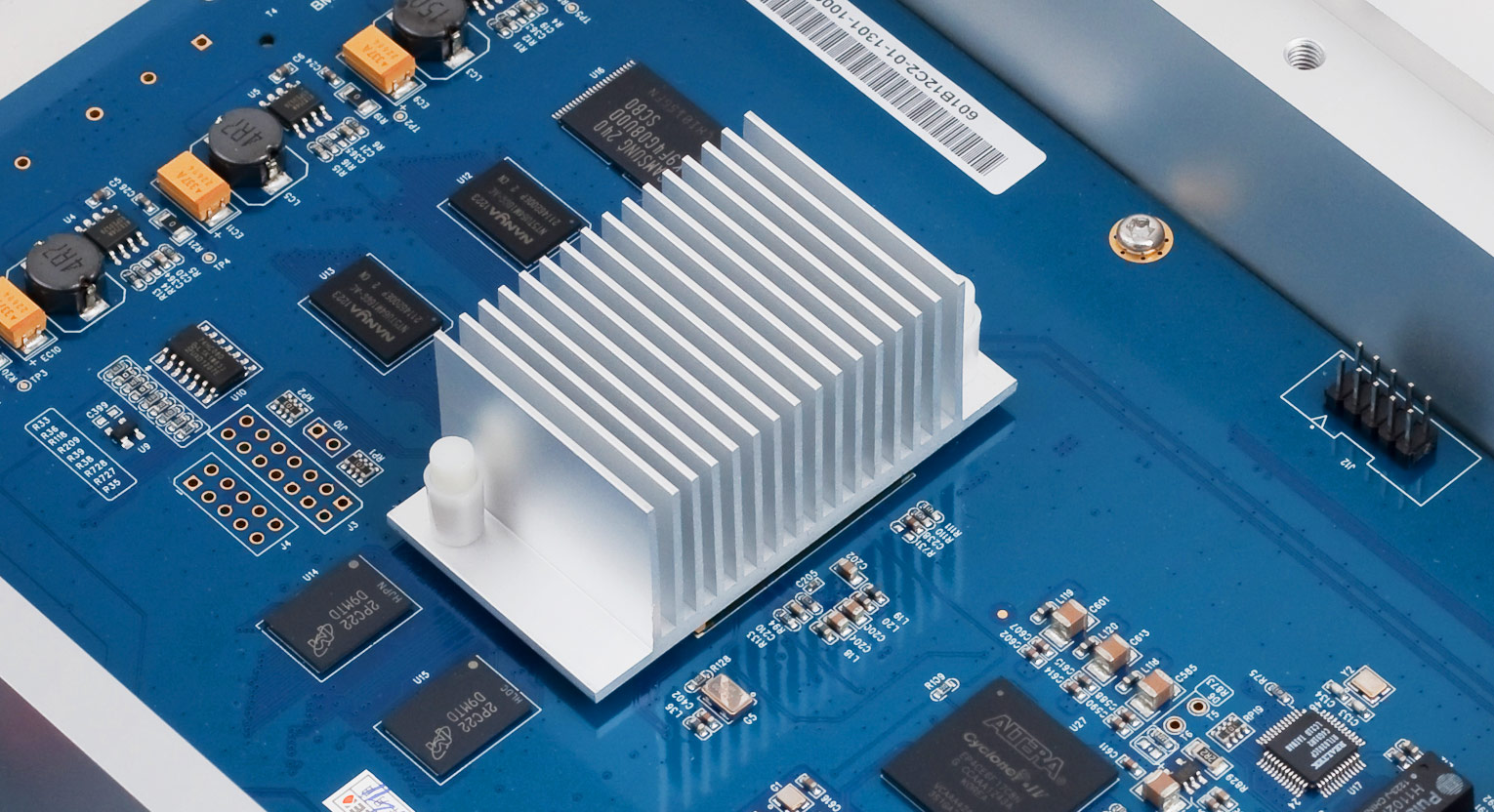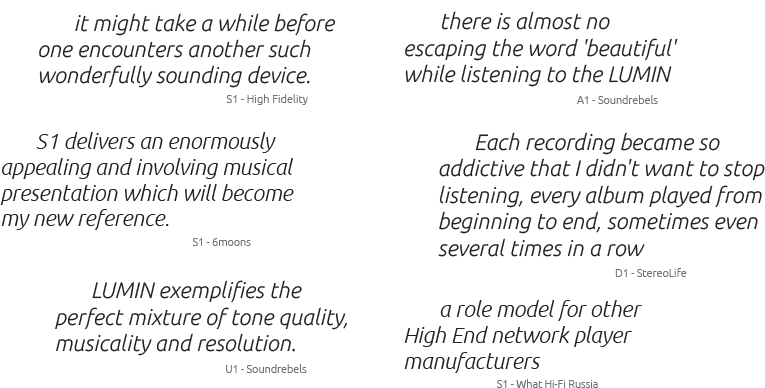 Musical performance
We put a huge amount of effort into sourcing the highest-grade matching components, creating truly balanced circuits, designing cases that shield from interference, etc, etc, but it's only important if the end result effectively communicates the intentions of the artist.
Notably, the common thread in every published and consumer review of all LUMIN products is musicality.
SUPPORTED STREAMING SERVICES
LEEDH PROCESSING DIGITAL VOLUME CONTROL

Lossless volume control for all LUMIN players.
LUMIN users now have the option to use (at no additional cost) Leedh Processing Volume Control instead of the default processing algorithm.
What is Leedh Processing?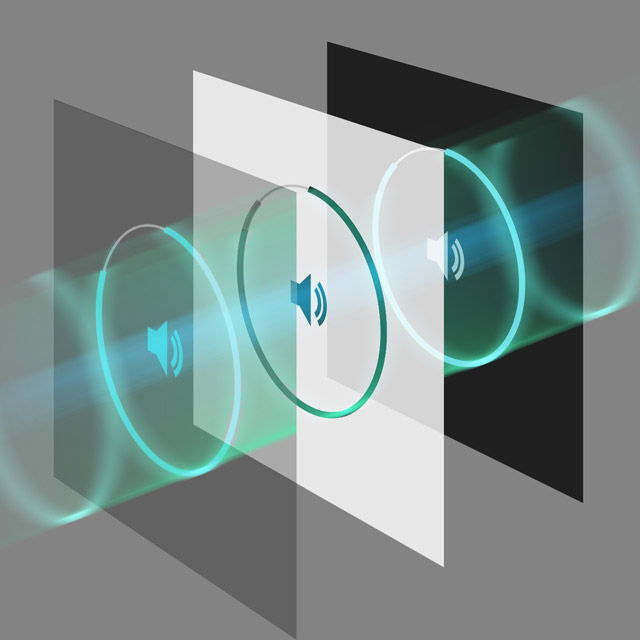 How to use Leedh Processing
With LUMIN, it is easy to try Leedh Processing for yourself.
You can choose whether to use Leedh Processing, use the traditional digital volume control algorithm, or use neither.
For LUMIN M1, Leedh Processing is the default choice – see below for how to turn it off.
For all other LUMIN players, there are 3 typical scenarios:
Scenario 1
Typical traditional system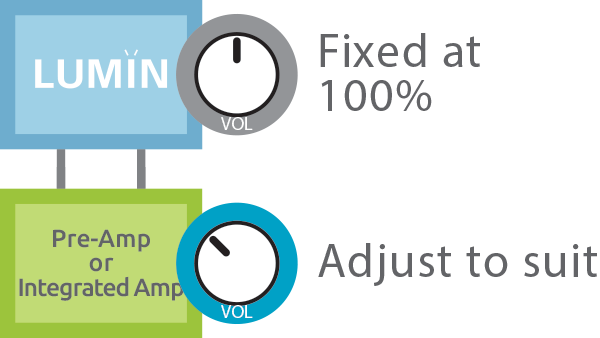 ---
Scenario 2
Bypassing your pre-amp volume control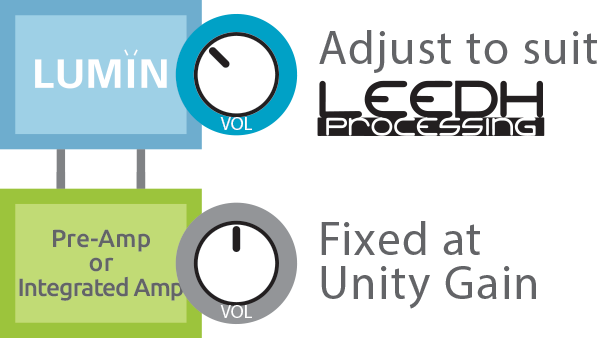 ---
Scenario 3
Eliminate a pre-amp completely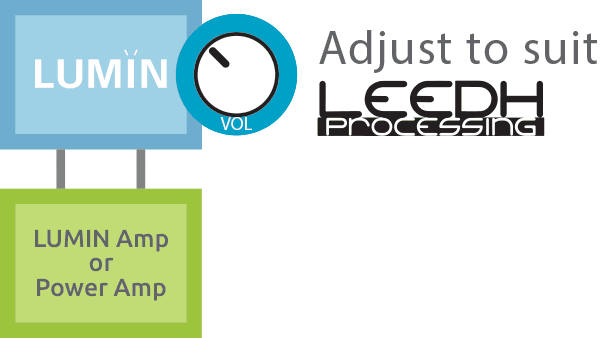 Note: For simplicity, a separate DAC has been ommitted from these diagrams, but all 3 scenarios still apply.
---
Turning Leedh Processing off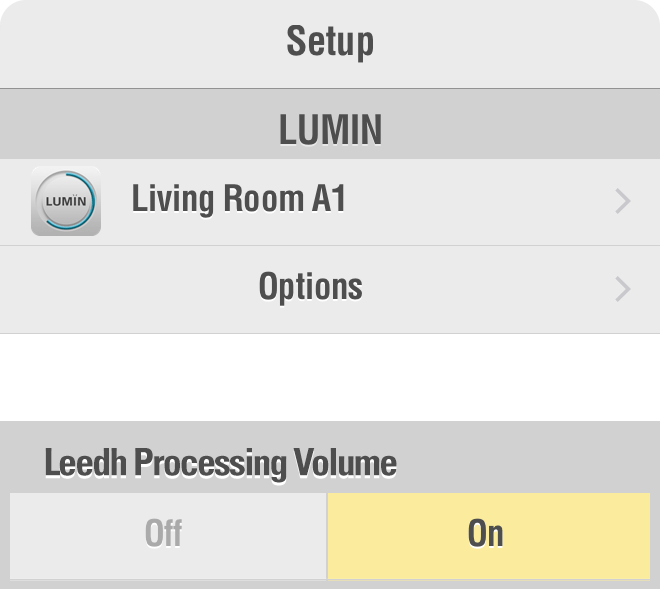 SPECIFICATION
NETWORK PLAYBACK:

Up to DSD512
Up to 768kHz, 16–32-bit, Stereo
MQA Decoding

UPSAMPLING RATES & BIT DEPTHS:

DSD256 upsampling option for all files
PCM 384kHz upsampling option for all files

DIGITAL OUTPUT STAGE:

USB:

Native DSD512 support
PCM 44.1–768kHz, 16–32-bit, Stereo

OPTICAL, COAXIAL RCA, COAXIAL BNC & AES/EBU:

DSD64 (DoP64, DSD over PCM)
PCM 44.1kHz–192kHz, 16–24-bit

POWER SUPPLY:

Internal shielded 100–240V AC auto-ranging

PHYSICAL:

FINISH:

Black anodised aluminium
Raw anodised aluminium

SIZE AND WEIGHT:

300mm (W), 244mm (D), 60mm (H), 2.5kg

PACKAGING:

470mm (W), 340mm (D), 170mm (H), 4.5kg
SPECIFICATION FOR CURRENT-GEN LUMIN STREAMERS
STREAMING PROTOCOL:

UPnP AV protocol with audio streaming extension (OpenHome)
Roon Ready
TIDAL Connect
Spotify Connect
Flac lossless Radio stations
AirPlay-compatible
Gapless Playback
On-Device Playlist

APP FEATURES:

Native support for TIDAL, MQA, Qobuz and TuneIn Radio.
Tidal MQA icons to identify high-res music
Qobuz high-res icons to identify high-res music
Volume control
High-resolution artwork
Artwork caching
Search
Multiple tag handling
Composer tag support
Album-grouping in playlist
Automatic internet links to artists/album/songs
Saving and restoring of playlists (including Tidal and Qobuz)

SUPPORTED AUDIO FILE FORMATS:

DSD Lossless: DSF (DSD), DIFF (DSD), DoP (DSD)
PCM Lossless: FLAC, Apple Lossless (ALAC), WAV, AIFF
Compressed (lossy) Audio: MP3
MQA
INPUT:

Ethernet RJ45 network 1000Base-T
Shared USB ports can also be used for storage, flash drive, USB hard disk (Single-partition FAT32, exFAT and NTFS only)

SUPPORTED CONTROL DEVICES:

All models of Apple iPad (v2 or later). iOS 9.0 or later required. Full Retina Display support.
Android devices. Android 4.0 (Ice Cream Sandwich) or later required.
Apple Mac with Apple Silicone

OTHER:

Leedh Processing lossless digital volume control
Compatible with LUMIN Infrared Control Package
Programme of Continuous Development – Firmware-upgradable for further features and enhancements
| | |
| --- | --- |
| Gewicht | N/B |
| Kleur | Zwart, Aluminium |