Advance Paris MyConnect 150
16/11/2022
Yamaha WXA-50 Musiccast Amp met Yamaha NS-BP401 Speakers
16/11/2022
Yamaha NS-BP401 Luidsprekers á
€199,00
Het geluid, de sfeer, beide briljant fascinerend. Een moment, om van de genieten, met muziek versterkt door de glans van Yamaha's vleugel.
Yamaha NS-BP401 is available for purchase in increments of 2
Yamaha NS-BP401 is beschikbaar voor aanschaf per 2
2 op voorraad (kan nabesteld worden)
Kristallisatie van vakmanschap, Black mirror piano afwerking
Het compromisloze werk dat is gedaan bij het produceren van een Yamaha-pianoafwerking bespaart geen moeite of tijd. Elk proces in de totale coatingprocedure, de onder- en topcoating, wordt bijvoorbeeld verder verdeeld in drie of vier herhaalde coatings, terwijl de membraandikte op micro-order wordt geregeld – waarbij het totale proces eigenlijk veertien coatings heeft. Uiteraard worden de droogtijden tussen coatings ook strikt gecontroleerd en worden het slijpen en polijsten herhaaldelijk met zorg gedaan voor en na elke coatingstap. En meer dan de helft van het proces wordt met de hand voltooid, met behulp van de vaardigheden van ervaren werknemers. De rijke, glanzende uitstraling met zo'n diepe diepte is de kristallisatie van vakmanschap gevoed door de kunst van het piano fabriceren.

Equipped with a pure aluminium diaphragm woofer that minutely delineates texture and ambience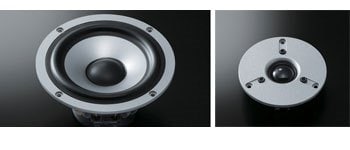 Het diafragma van de 13cm (5-1/4″) woofer is gemaakt van hoogwaardig aluminium dat meer dan 99% zuiver is. Het lichte gewicht en de hoge stijfheid zorgen voor een superieure respons voor een rijke en hoge dichtheid afbakening van de textuur, sfeer en toonkleur van elk muziekinstrument. Een ander belangrijk kenmerk is het vermogen om details in het natuurlijke geluidsbeeld af te bakenen, zelfs inclusief diepte, zoals de positionele relatie van elk muziekinstrument in een jazzpianotrio. De soft dome tweeter van 3 cm (1-1/4″) is gemaakt door het membraan te coaten en unieke vormtechnologie toe te passen, en levert zowel uitzonderlijk hoge reproductiemogelijkheden als een rijke breedte aan geluid van geluidsbronnen met een hoge resolutie.
High rigidity cabinet that revives know-how in the creation of musical instruments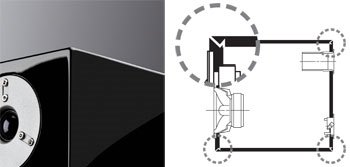 It features a highly rigid cabinet with full three-way mitered-joint construction that connects all angled parts that are crucial to cabinet strength based on the wedge principal. Yamaha's traditional know-how nurtured by its long history in musical instrument manufacturing skillfully controls reverberations of the sound indispensable for music, while achieving high rigidity that prevents unwanted resonances. And following the meticulous polishing carried out to make invisible the joints between surfaces, the unit is given a beautiful piano finish.
Meticulous use of only the highest quality parts, including gold-plated speaker terminals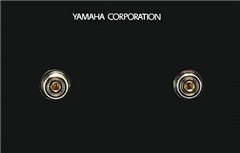 Sections of the network circuit and the internal wiring are composed only of the highest quality parts and materials, carefully selected by meticulous listening tests. Moreover, large speaker terminals compatible with banana plugs have been gold plated to suppress transmission loss and change over time.
NS-BP401
Specifications
Type
2-Way Bass-Reflex Bookshelf Speaker System
Woofers
13 cm (5-1/4") cone
Tweeter
3 cm (1-1/4") soft dome
Frequency Response
50 Hz – 40 kHz
Nominal Input Power
60 W
Maximum Input Power
120 W
Sensitivity
85 dB / 2.83 V / 1 m
Crossover Frequencies
3 kHz
Impedance
6 ohms
Dimensions (W x H x D)
176 x 310 x 327 mm; 6-7/8" x 12-1/4" x 12-7/8"
Weight
5.9 kg; 13 lbs.
| | |
| --- | --- |
| Kleur | Urban grey vinyl, Zwart vinyl, Wit vinyl, Walnut vinyl |