Focal Aria K2 906 Limited edition
29/09/2021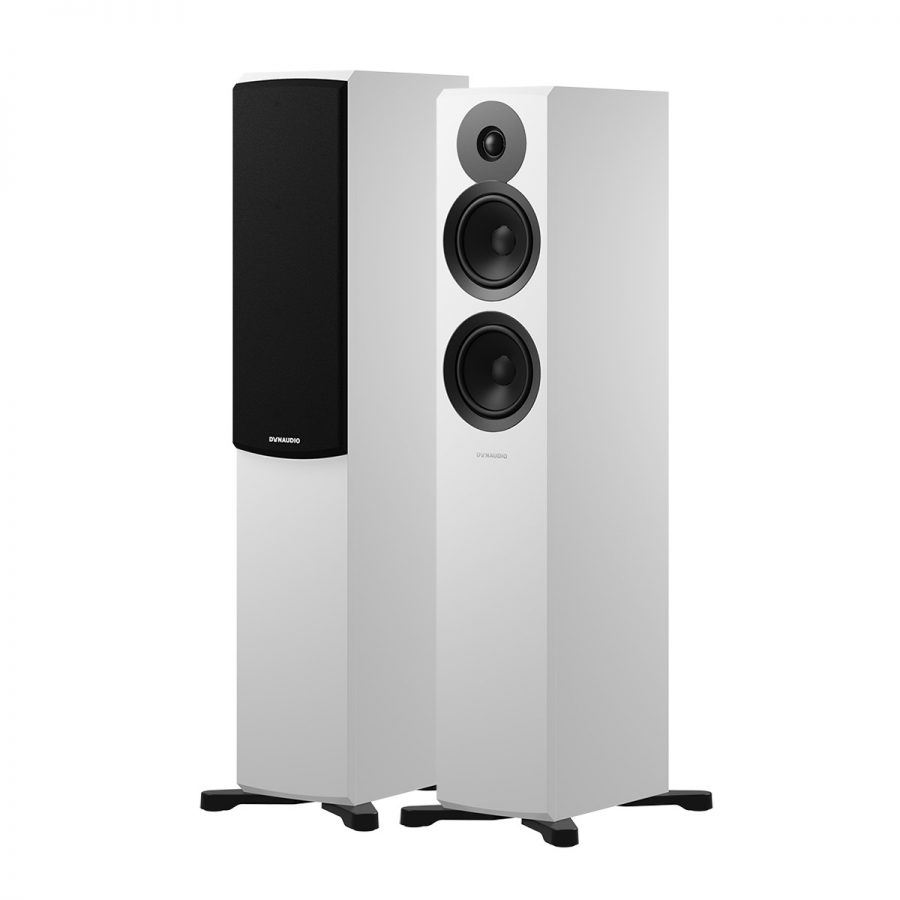 Dynaudio Emit 30
01/10/2021
Dynaudio Special Forty Anniversary
€1.575,00
Geavanceerde akoestische technologie in een klassiek Dynaudio-ontwerp
De Special Forty-Anniversary luidsprekers brengt 40 jaar ervaring van Dynaudio. Is daarbij ook volledig up-to-date met Dynaudio's laatste technologische ontwikkelingen.
Dynaudio Special Forty is beschikbaar voor aanschaf per 2 stuks.
Dynaudio Special Forty is available for purchase in increments of 2.
Lauweren zijn niet om op te rusten
Dynaudio verrast zichzelf nog steeds. Sommige mensen zijn misschien tevreden om achterover te leunen en zelfgenoegzaam te zijn over hun successen na 40 jaar constante innovatie. Dat is Dynaudio niet. Sterker nog, Dynaudio kennende wordt ze alleen maar hongeriger naar nieuwe technieken en technologieën.
Daarom heeft Dynaudio de Special Forty ontwikkeld: Dynaudio wilde die innovaties opnieuw bekijken en zien wat ze deze keer anders zouden doen.
Wat je hier niet zult vinden, is iets revolutionairs. In plaats daarvan ontdek je een blik op Dynaudio's verleden – samen met enkele speciale sneak-previews van de toekomst van Dynaudio.
De Special Forty is klassiek Dynaudio: al het vakmanschap, de aandacht voor detail en de totale liefde voor authentiek geluid die je gewend bent. Het is de keuze van de kenner – een eenvoudig paar passieve hifi-luidsprekers. Maar het gaat er niet om met mistige ogen terug te kijken naar vergane glorie en het daarbij te laten. Het gaat erom die glorie te gebruiken als een platform van waaruit Dynaudio hun volgende reeks doorbraken kan lanceren.
Greatest hits… reimagined
Dynaudio is heel goed in het ontwerpen van  compacte luidsprekers. Dat hebben e altijd gedaan. Dus, als een knipoog naar klassiekers zoals de Special One, de Special Twenty-Five, de Crafft en de Contour 1.3SE, hield Dynaudio de Special Forty puur – zij het ongelooflijk geavanceerd.
Natuurlijk zou het geen jubileumspreker zijn als het niet enkele van Dynaudio's grootste hits bevatte. Maar zij hebben niet alleen de oude band weer bij elkaar gekregen om hetzelfde oude spul uit te draven, onveranderd. Dynaudio heeft dingen geremixt, geremasterd en herschikt om die oude favorieten naar het heden te brengen – en daarna.
That's why it has one of dynaudio's classic first-order crossover designs, incorporating our unique Phase Alignment and Impedance Alignment technologies. The crossover expertly marshals the input signal between the woofer and the tweeter – so each driver gets only the frequencies it's supposed to, and can perform at its very best. Its specially selected components handle the impedance optimisation and, because both drivers have extended frequency ranges for even better overlap and integration, that performance borders on the mesmerising.
The song remains the same
The Special Forty uses Dynaudio's proprietary MSP (Magnesium Silicate Polymer) material for its main driver. MSP delivers precisely the right combination of rigidity, damping and stability for the most faithful sound reproduction. And, unlike other cone materials, it doesn't change over time – so your Special Forty speakers will still be singing just as sweetly come our next anniversary.
The cone itself uses a painstakingly developed symmetrical excursion for even better midrange performance. Behind it sits our asymmetrical spider – our passive harmonic rectifier. It minimises upper harmonics to further tighten the performance and make it possible not only to pick out individual parts in a piece of music, but even individual instruments in an orchestra. (So now, finally, the Third Violin section can have its day in the sun.) And, like all our other MSP cones, it's a one-piece design (you can tell by the special balance ribs around the central dust-cap). This gives it an incredibly solid connection to the voice-coil, as well as stabilising its form – which is crucial when you decide to turn it up to 11.
It all sits in our special AirFlow Basket – the bit that holds the whole driver motor securely in place in the cabinet. Its development was one of those 'Eureka!' moments our engineers seem to get a few times a week in Dynaudio Labs (you can often hear them cheering from across the road in our factory). We asked them to reduce internal reflections and increase air movement without compromising the basket's stiffness or stability, and this genius design is what they came up with.
Airflow is king

The new Esotar Forty tweeter takes air-movement to another level. It moves the air in typically sweet fashion in front of the DSR (Dynaudio Secret Recipe) precision-coated soft-dome, of course, but there's a lot of engineering going on behind it as well.
Take the new pressure conduit. It's a shaped vent in the back of the hybrid magnet system that allows more space in the rear chamber. That space lets us pack in more damping material and reduces back-pressure, while the shape itself optimises airflow coming backwards from the rear of the dome.
Then there's the outlet; the aero-coupled pressure-release system. It sits underneath the voice-coil and reduces unwanted pressure build-up that could affect its movement. Stopping those pockets of air from forming reduces resonance – and less resonance equals even greater potential for detail.
Flux optimisation and beam control
We love playing with the laws of physics. Physics wins in the end, of course (usually), but we almost always manage to bend it to our will along the way. Just like we have with our magnet systems.
The magnet turns electrical energy that flows from your amplifier into the voice-coil, into the physical back-and-forth movement of the driver diaphragm. These movements are very small and very fast (especially in the tweeter), so they need a lot of finesse if you want to hear all that luscious detail and emotion in your music.
Behind the woofer

In the woofer, we've achieved that finesse in two ways: by placing the magnet inside the voice-coil, and by playing with magnetic energy itself.
Other manufacturers typically put it around the outside edge, leaving the voice-coil hollow. Putting the magnet inside keeps the magnetic energy (or flux) in the optimum position for getting itself wrapped around the voice-coil – where it should be. That means we can use more of its power for a given weight. It also reduces internal reflections because there's less material for sound to bounce off inside the driver.
Second, we use a hybrid magnet for even greater control over the flux and voice-coil movement. An incredibly powerful neodymium rare-earth magnet provides the muscle and flings flux around with abandon, while a ferrite magnet tempers that enthusiasm by gently moving the flux back to exactly where it's needed most. The result? Symmetrical excursion, a reduction in second-harmonics, and an even more accurate, authentic sound.
2020 finish update

Dynaudio's award-winning anniversary speaker, Special Forty, has been given a makeover with two stunning new finishes. Black Vine is a striking contrast of dark veneer shot through with vivid orange, while Ebony Wave is a captivatingly sinuous take on the classic hardwood.
Both veneers are man-made to Dynaudio's specs, ensuring total consistency between pairs of speakers. And the level of finish possible is simply astonishing – they look as smooth as glass, and as lustrous as a piece of luxury antique furniture. Just as you'd expect from a nation of design-fanatics.
The new Esotar Forty tweeter maximises airflow for even more refinement, while its low resonant frequency smooths the transition to the woofer

Our best 17cm woofer yet. It's based on what you'll find in the Confidence and Evidence ranges, and uses a sophisticated hybrid magnet system for lower distortion and higher power.

Phase Alignment and Impedance Alignment technologies keep this classic Dynaudio crossover topology firmly on top of its game.

The Special Forty's exclusive Black Vine finish is a striking contrast of dark veneer shot through with vivid orange, while Ebony Wave is a captivatingly sinuous take on the classic hardwood. Both finishes are as striking as they are beautiful – and are unique to each speaker.

Features
Cutting-edge acoustic technology in a classic Dynaudio design
The Esotar Forty tweeter

This DSR precision-coated 28mm soft-dome tweeter is unique to the Special Forty.

Our best 17cm woofer yet

The ultimate incarnation of our legendary 17W75 MSP woofer, with an AirFlow Basket and hybrid magnet system.

Classic Dynaudio crossover

This is a variant of the first-order crossover used in our other classic two-way speakers – and its performance borders on the mesmerising.

Special finishes

Black Vine / Ebony Wave? Either way, your eyes are in for a treat.

Aluminium terminal plate

Five-way binding posts and the 40th anniversary logo: we care for the bits you don't see too much, too.

Made in Denmark

Designed and engineered in Dynaudio Labs, and built across the road in our factory… all in Skanderborg.
Specification sheet for Special Forty part 2

| | |
| --- | --- |
| Sensitivity: | 86dB (2.83V / 1m) |
| IEC power handling: | 200W |
| Impedance: | 6 Ohms |
| Frequency response (±3dB): | 41Hz – 23kHz |
| Box principle: | Bass-reflex rear ported |
| Crossover: | 2-way |
| Crossover frequency: | 2000Hz |
Specification sheet for Special Forty part 1

| | |
| --- | --- |
| Crossover typology: | 1st order |
| Woofer: | 17cm MSP cone |
| Tweeter: | 28mm Esotar Forty |
| Weight: | 8.1kg / 17.9lb |
| Dimensions (WxHxD): | 198 x 360 x 307mm / 7.8 x 14.2 x 12.1in |
| Dimensions with feet/grille (WxHxD): | 198 x 360 x 322mm / 7.8 x 14.2 x 12.7in |
| Finishes/grilles: | Black Vine / Ebony Wave |
These are superb standmounters
The Special Forty wins best standmount speaker over £2000 for the second year running.
Truly outstanding sound performance
Go, get one! For the very first time, avforums has reviewed and awarded the Special Forty with 10/10 and a rare Best Buy Award – (the fourth award within the UK). Presenting Dynaudio's All-rounder in all its categories – design, sound quality and testing. The conclusion: "I've tried to find faults with the Special Forty, I really have. The problem is that it doesn't have any."
Our favourite quotes:
Special Forty – the full package
Tonepublications.com just published a love letter to our Special Forty. The article reviews the speakers from top to toe, from unwrapping to music experience – the Special Forty's got it all.
The bookshelf speakers are praised for their gloss-coated design and outstanding sonic performance, granting it an "chameleon-like" ability to adjust to different music styles. But most importantly, these speakers truly promise amazing quality at a comparatively low price, summing it up as "a beauty within the financial reach of so many who prioritize music in their lives."
You can't help but to fall in love
The German hi-fi magazine, Audio Test, reviews the Dynaudio Special Forty anniversary speakers; falling in love with the stunning performance. We've collected our favourite quotes from the German review, translated them and shared them below:
Special Forty loudspeakers = Editor's Choice
British Hi-Fi Choice reviews the Special Forty anniversary speakers, speaking words of praise and rewarding the speakers with a Editor's Choice award.
"These are superb standmounters"
In May, we introduced our Special Forty speakers to the world – celebrating our 40th anniversary. Since then the reviews have started to come in and we've been overwhelmed by the positive reception. This time around, it's What Hi-Fi?'s turn to give them a spin. And as we expected, they loved them. You can find selected quotes below and a link to the original review.
Special Forty review: "Hyper-real voice reproduction"
The German magazine imagehifi tests the Special Forty anniversary speakers in its latest issue. It's another fantastic review of the Special Forty speakers, which is spread out over 10-pages in the magazine. We have translated our favourite quote for you to enjoy below.
Chapeau and happy birthday: The Special Forty
The German magazine hifi&records has reviewed the Special Forty anniversary speakers and found them worthy of the magazine's front page. And with it's easy to understand when you consider how well the speakers were received: "The Special Forty is one of the very best compact speakers in the company's forty years history." You can find our favourite quotes below – and don't worry we've translated them to English.
Worthy of its anniversary status
Best Buys Audio & AV from Australia reviews our Special Forty hi-fi speakers; the birch veneer and their sound reproduction garnered high praise. We've collected our favourite quotes from the review below:
Special Forty review in Darko
The Special Forty anniversary speaker impresses Darko for their sound and appearance in his review titled: "Beautiful furniture that sings: Dynaudio's Special Forty." We have selected our favourite quotes from the well-written review below.
Special Forty review on cnet
Steve Guttenberg from cnet reviews Special Forty anniversary speakers. Read selected quotes from his review below.