Dali Menuet SE
13/04/2022
KEF S2 Floor Stand
16/04/2022
Dali Katch G2
€399,00 – €425,00
De DALI KATCH G2 is het resultaat van DALI's geavanceerde digitale technologie en unieke ontwerpkennis. Daarbij zijn beide elementen samengebracht om een Bluetooth-luidspreker te creëren die rijk geluid levert uit een compact behuizing.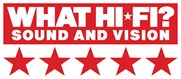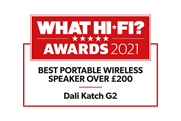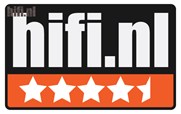 ConnectivityBluetooth 5.0 biedt u een drastisch verbeterd verbindingsbereik en stabiliteit, Bovendien zijn de verbeterde audiokwaliteit van apt-X, apt-X HD en AAC in dit geval ook van de partij.U kunt nog steeds analoge bronnen aansluiten via de stereo mini-jack ingang. Combineer dat met de USB-oplaaduitgang en u kunt een externe streamer aansturen voor eenvoudige integratie van het thuisnetwerk.

Longer Battery LifeThe powerful 3300 mAh internal battery in the DALI KATCH G2 offers up to 30-hours of untethered playback. Charging to full within 2-hours. Power-level indicator lights are activated by the push of a button – immediately revealing the current power level.

Three Cool ColoursAvailable in three cool colours: Iron Black, Caramel White, and Chilly Blue. Making sure the DALI KATCH G2 will blend elegantly into almost any environment. A golden DALI logo coin anchors the genuine leather strap, which is colour-matched to the main colour scheme.

True Wireless StereoConnect two KATCH G2's in True Wireless Stereo mode to allow stereo pairing. Tell your friend to bring a KATCH G2 to the party, pair with yours and spread the good vibes.
DESCRIPTION
DALI KATCH G2 is perhaps the best-sounding battery-powered Bluetooth speaker you can get. Wrapped in an elegantly rounded solid housing the specially developed drivers deliver the audio signal from the internal digital amplifier. It is easily connected via Bluetooth 5.0, supporting the excellent audio quality of apt-X, apt-X HD, and AAC. The DALI KATCH G2 also supports analogue input via mini-jack. With such a powerful portable speaker on your hands, we know you will love the USB charge output, keeping your phone or tablet charged while you rock your beats.
Available in three new colour schemes, Iron Black, Caramel White, and Chilly Blue, the DALI KATCH G2 will blend elegantly into almost any environment. A golden DALI logo coin anchors the genuine leather strap – now colour-matched to the main colour scheme.
The DALI KATCH G2 is a portable loudspeaker and will be used in a large variety of situations. With its two different audio profiles, you can choose between a neutral frequency response, perfect for most listening situations, or a warmer response that will work perfectly in larger rooms or when the music needs just that little extra.
We have also improved the rubber feet, making sure that the DALI KATCH G2 will stick to the surface without loosing its grip.
CONNECTIONS
Getting music to the DALI KATCH G2 is as easy as making a Bluetooth connection. Connect traditionally or use NFC for a quick effortless connection. The built-in Bluetooth 5.0 receiver will accept apt-X, apt-X HD and AAC connections if the source device is capable.
As an alternative, the DALI KATCH G2 has a 3.5mm stereo mini-jack input, making it easy to connect non-Bluetooth devices. The mini-jack input is auto-sensing, eliminating the need for additional button presses to play music. Pressing the Bluetooth button with the mini-jack connected will allow you to toggle between the mini-jack input and Bluetooth.
Next to the mini-jack input is a USB charge connector and the power connector. The USB charge connector allows you to charge your music device when on the move, but also to drive a Chromecast Audio dongle or Amazon Echo for easy home network integration.
BATTERY
The internal Li-Ion battery has a total capacity of 3300 mAh, letting the DALI KATCH G2 play at normal volume for a long as 30 hours. The battery is replaceable and is manufactured by a quality battery brand manufacturer for the best possible stamina. Charge time is a little over 2 hours with the supplied charger.
Powering the DALI KATCH through the mains charger will enable it to play louder and with more energy. This can be recommended for optimal performance when playing loud party music.
The dedicated USB-out adds the possibility to charge your phone while on the move.